for the octopus story, go
here
.
for the all your base are belong to us video, go
here
.
still writing my last paper because i am smart and did not get it done by friday.
0 comments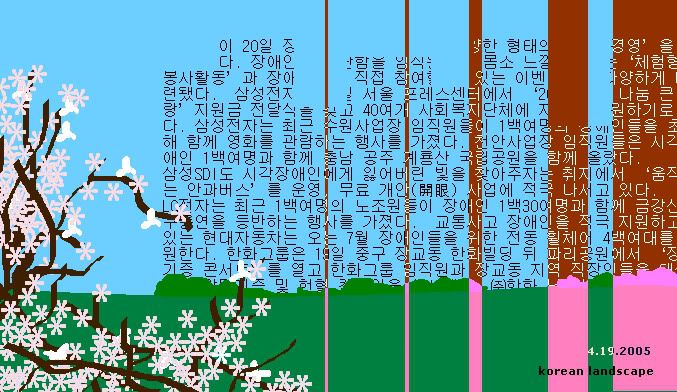 after a week of panicking and getting nervous and lapsing into inferiority complexes i finally heard from the research fellowship
i applied to: i got it! hence, andro' in corea per quest'estate. but i'm pretty sure i'll be stopping by manila at least at the
start of summer. summer plans involve (ha, i'm still a paper, a portfolio, and four finals away) the following:
finally meeting up with margaret; finally meeting up with asti; terrorizing the school - more specifically vicky, mr. jones, mr. knight,
paul, henry; mourning with hyun kyong and/or doing that girls' night out thing and explicitly excluding jose for being a jerk;
seeing a lot of bei xian when she's in seoul; reading; writing; flute; making cd covers; putting together that spring break
scrapbook; catching up on movies; forgetting everything i learned this year; continuing to forget everything i learned
before; and that research thing they're paying me for. i'm so excited.
0 comments

sometimes i break my own heart, to borrow a line from natalie portman from the episode iii trailer.
"anakin, you're breaking my heart!"
0 comments

- professor broun, in fiction workshop yesterday
news: it turned out that joe lieberman was at yale (for all of, like, an hour) yesterday so i got to hear him talk and
be rude to (i love my english. is that right?) and tomorrow
fareed zakaria
is speaking at our history/politics colloquium.
yay!
but more importantly, i finished
the brothers karamazov
last night.
i shut the book, smiled, and looked up, and right across from me in the library some poor ds-er glanced up from his brothers k
(nietzsche was on standby beside him) and our eyes met in profound dostoevskian telepathy.
0 comments

- ds.
coincidentally a large part of the colloquium was on circles.
as opposed to triangles.
(the quote is professor hsieh's, and
yes
our marxes are red.)
0 comments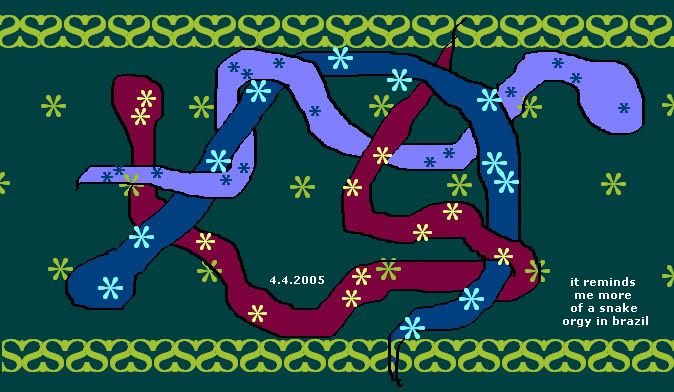 - sang ik's comment to either the banana yoshimoto passage or my drawing from 3.26.2005, or both.
and about april 2nd: HAPPY BIRTHDAY MARGIE!
in other news, damn daylight savings time.
0 comments